Monte Piana is one of the most beautiful site to visit in the Dolomites, with its special shape and position that offer a spectacular 360 degrees view towards the most famous mountains around Auronzo di Cadore and Cortina d'Ampezzo - Tre Cime di Lavaredo, Paterno, Cadini di Misurina, Sorapiss, Cristallo, Croda Rossa ecc. - and over the Lake of Misurina at its feet. Monte Piana is also a special site of memory and history of the tragic events of last century: the World War fought on the Dolomites. Just on this mountain more then 14.000 soldiers died. Nowaday it's an engaging destination for whom that wants to visit the Open Air Museum of the First World War , one of the most important witness of the battles fought on these mountains in the years 1915-1917. The museum consists of trench warfares, tunnels and emplacements located on the top of the mountain. The open air museum was realized thanks to the first work of the austrian Colonel Walter Schaumann, with his group "Friends of the Dolomites", and the following constant restoring and maintenance works of the "Friends of Monte Piana" and of the "Monte Piana Foundation".
ADMITTANCE - SHUTTLE SERVICE
The top of Monte Piana - alt. m. 2325 - is reached by a road that is closed to the traffic, for the bikes too, since the year 1998. It starts from the Lake of Misurina - m. 1760 - , in the community of Auronzo di Cadore (Belluno), at just 12 km. from Cortina d'Ampezzo; it follows the original suggestive itinerary of the old military way that was caved into the rock. The road is 6 km long and has a difference in height, from the bottom to the top, of about 565 meters (1853 ft.). It's supported by a Shuttle Service that allows to reach the Bosi Refuge in 12 minutes (5 km.), located a little lower from the mountain top at 2205 m. of altitude, where there is also a little memorial Church. Inside of the Refuge it's situated also a little museum with pictures and some small objects from the First World War; here it's also possible to buy souvenirs and guide books. From the Refuge Bosi starts the path that drives to the Open Air Museum of the First World War. About 20 minutes are needed to reach the south-west top of the mountain at 2325 m. of altitude (1 km.), on the so named "italian side", where the "Capanna Carducci" is located (private chalet). The complete tour last about from 2 1/2 hours up to 4 hours, depending from how many trenches are wanted to be visited. During the easy and agreeable trekking tour you can admire one of the most unforgettable panorama in the Dolomites.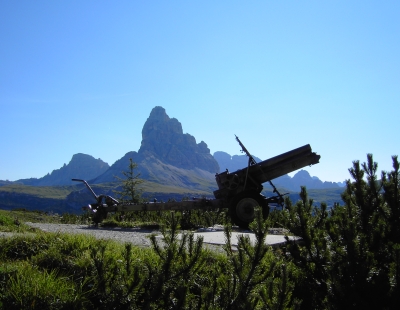 Piece of ordinance at Monte Piana
Shuttle Jeep Service
Misurina - Monte Piana and retour
START in Misurina near Genzianella Bar Restaurant
Via Monte Piana 31 - 32041 Auronzo di Cadore - Italy

ARRIVAL to Bosi Refuge 7234 ft. /2205 m.
Rif. Bosi Tel. +39 0435 39034 - rifugiomontepiana@gmail.com
WhatsApp +39 324 9978115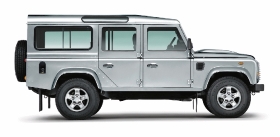 Shuttle S. timetable: from h. 9.00 to 17.00 - every day
2019 - from 1. Juny to end of October
Continuous service
Runs every max. 20 minutes
Info - Shuttle Service :
Lorenzo tel. (+39) 338 5282447
Raffaele tel. (+39) 336 309730
e-mail : info@montepiana.com

since 28-03-2009
Last update: 07-10-2019